ZHTECH is the leading provider of Microsoft virtual office, BI, and SharePoint solutions on-premise or in Cloud. From start to finish, we support our clients with design architecture, implementation, migration, support, and training. Our team has deep experience with Windows SharePoint Services (WSS), SharePoint 2007 (MOSS), 2010 and 2013 servers, and Office 365. We bring a diverse and experienced professional team with a proven track record of success to your projects. There is no one-size-fits-all approach when it comes to crafting a SharePoint solution; therefore, we will provide the personalized service that you need to help you to design and implement the best solution for your company.
Our SharePoint Services
Business Intelligence i.e. KPI, BDC, Dashboards and SQL Reporting Services Integration
Custom SharePoint Solutions
Custom Web Parts Development
Custom Workflow development
Document Management
InfoPath Forms Development
MOSS Portal Development
Public SharePoint Sites
SharePoint Branding and User Interface Customizations
SharePoint Collaboration
SharePoint Content Management and Publishing
SharePoint Migration
SharePoint Workflow Management
ZHTECH can create SharePoint application in Cloud for a short time period with preconfigured design. This can save you a lot of time when you need a basic or high-availability SharePoint farm in a short time period for a development and testing environment or if you are evaluating SharePoint Server 2013 as a collaboration solution for your organization.
ZHTECH offers cloud based SharePoint solutions in two designs:
 
1. SharePoint Foundation 2013
Started from $250/m plus $300 setup fee
one server with 2 cores, 7 GB RAM, 40 GB SSD. expand as needed
Available in one day after order    
2. SharePoint Server 2013
Farm structure with 3 servers
a domain controller server ($120/m, 1 core, 3.5 GB RAM, 50 GB SSD)
a MS SQL 2012 server($302/m, 4 x 1.6GHz CPU, 7GB RAM)
and a SharePoint Server 2013($240/m, 2 cores, 7 GB RAM, 100 GB SSD)
Started from $660/m
Plus $800 setup fee and SharePoint license fee ($6,500)
Available in two day after order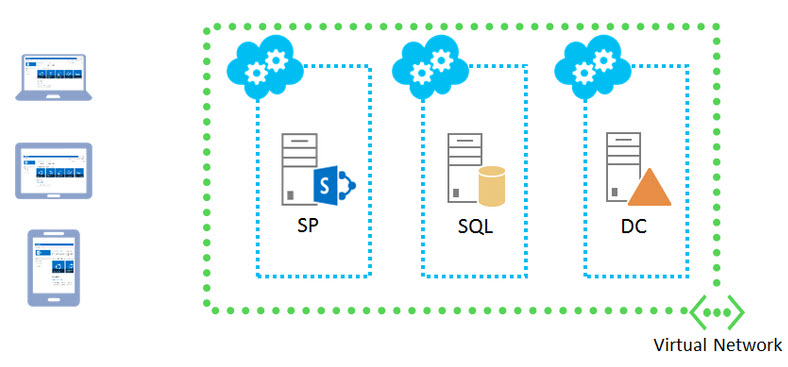 ZHTECH also offers customized design for other farm deployment, such as multiple tiers farm for high avalability. 

All plans are cloud based with subscription based
Pay as you go and stop any time
 
Please call or send inquiry form to us